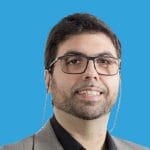 Dr. Carmelo Ferlito
Carmelo Ferlito (Verona, Italy, 1978) is the CEO of the Center for Market Education (CME) and a Senior Fellow at the Institute for Democracy and Economic Affairs (IDEAS) in Kuala Lumpur. He is also a Research Advisor for Provalindo Nusa in Jakarta, Indonesia, and a Senior Fellow at the Property Rights Alliance in Washington, DC.

Carmelo Ferlito earned a Master in Economics (2003) and a Ph.D. in Economic History (2007) from the University of Verona in Italy. From 2004 to 2009 he worked as researcher with several Italian universities, including University of Verona, Salento University and University of Macerata. In 2017 he was Visiting Scholar at the University of Bergamo. Between 2013 and 2019 he has taught Microeconomic Theory and Policy and History of Economic Thought at INTI International College Subang (Subang Jaya) and at Universiti Kuala Lumpur-MFI (Bangi). As recognized international speaker, he has delivered guest lectures in prestigious institutions in Malaysia, Italy, Pakistan, Singapore and Indonesia.

His research activity is devoted to further expand free market economics as taught by the Austrian School of Economics, with particular reference to business cycle analysis, capital theory and entrepreneurship.

Dr. Ferlito is author of five books and more than thirty scientific papers. His latest books are Hermeneutics of Capital. A Post-Austrian Theory for a Kaleidic World (Hauppauge, NY, 2016) and Phoenix Economics. From Crisis to Renascence (New York, 2013).

He has applied his theoretical analysis to policy studies, in particular to the Malaysian property market and housing policies and to the issues of financial literacy, cost of living and agricultural policies. His opinions have been reported by several Malaysian and international media, such as The Financial Times,The Edge, The Star, The Malaysia Reserve, Free Malaysia Today,BFM 89.9,The Jakarta Post, The Business Recorder.

Carmelo Ferlito is not only a scholar. In the past ten years he developed a strong business background, working in Southeast Asia enhancing the regional business for multinational companies producing equipment for the poultry industry.

His research activity can be followed on the following page:
https://carmeloferlito.academia.edu/.